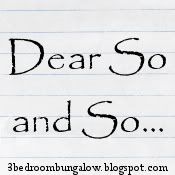 Something new...I've been reading Alix's Dear So and So posts for awhile now over at
Casa Hice
, but for some reason today I suddenly felt the urge to jump in and join the party! Maybe it's 'cause I've been feeling stressed again this week, but I've just
got
to get some things off my chest.
~~~~~~~~~~~~~~~~~~~~~~~~~~~~~~~~~~~~~~
Dear London
,
I know we barely know each other, but I'd like to give you a heads-up about some potential new residents arriving soon who are very dear to me. They're not 100% sure yet they'll be making the move, but they're (mostly) pretty excited about it. I'm not sure how I feel yet; I'll miss them greatly, but on the other hand, it will be a great opportunity for you and I to get to know each other better. And of course, we'll have to stop in to see your half-sister Paris, once we're in the neighborhood. At any rate, I would appreciate it if you could extend your most gracious welcome to my loved ones, especially considering the difficulties of a trans-Atlantic move. I'm sure you understand.
Hope to see you soon,
Flartus
~~~~~~~~~~~~~~~~~~~~~~~~~~~~~~~~~~~~
Dear Sub-Prime Customers
,
I know that spending 4 minutes on the phone with me, making sure we have your correct address, and that the dealer didn't pocket half of your down payment or lie to you about being required to purchase a service warranty, is a huge sacrifice to you. But I'd think that the $18,000 we're putting up, so you can style around in that SUV that you just
had
to have, instead of the reliable compact car across the lot, just might make it worth your time. So can the attitude, and don't blame us that your previous repossessions and consistently late mortgage payments jacked your interest rate up on a luxury car you only put $500 down on. Oh, and by the way--I can hear you peeing. And no, it doesn't improve my impression of you.
Good luck with those payments,
Your Friendly Loan Processor
~~~~~~~~~~~~~~~~~~~~~~~~~~~~~~~~~~~~
Dear Car Dealer
,
I'm not an idiot. I can tell that paycheck is falsified, and I know that a "service address" on a utility bill is
not
where she makes her payments. Get your documentation straight
before
you send in the contract, and maybe it won't take 10 days to get your money.
Efficiently yours,
Your Frustrated Loan Processor
~~~~~~~~~~~~~~~~~~~~~~~~~~~~~~~~~~~
Dear Rosie
,
Thank you so much for your patience with us. I know it must be frustrating and tiresome to spend so many hours alone each day. And then I come home, too tired to give you a good, long walk, but not too tired to spend my few free hours in front of the computer, ignoring you. And, other than ripping open Jennifer's giveaway prize I'd so carefully wrapped, and leaving the bare bar of soap in the middle of the living room as if to say, "I
could
eat a third one, if I really wanted to"--other than that, you've been so good! I really do appreciate what a great dog and companion you are. I'll try to keep you from temptation next week.
Hugs and squeezes,
Your Human
PS Oh, and I'm gonna start back to teaching in a couple of weeks, so, um...sorry, it's not gonna get better anytime soon.
~~~~~~~~~~~~~~~~~~~~~~~~~~~~~~~~~~
Dear Jennifer
,
There may be a slight delay in the arrival of your giveaway prize. Never fear, it will be toothmark-free. I hope.
Thanks,
Flartus
~~~~~~~~~~~~~~~~~~~~~~~~~~~~~~~~~
Dear Spring
,
Is that you? I thought I saw you slinking in, behind those curtains of rain. The damp and dark disguised your slowly rising temperatures, but that red-winged blackbird I heard last week told me to be on the lookout. Then the daffodils started trumpeting your arrival earlier this week. I'm sure the fruit trees and other flowers will be re-decorating for you very soon. Please make yourself comfortable; we'd
love
for you to make it a nice long visit this year. Don't let bossy ol' Summer push you out too fast. Oh, and please, feel free to spread out, I know several distant bloggers who would love to see you, too.
Lots and lots of love,
Flartus
What's going on? It's a fun Friday meme hosted by Kat at 3-Bedroom Bungalow. Wanna join in? Stop by her site, grab the button and add yourself to Mr. Linky. I'm doing it for the first time, won't you join me?